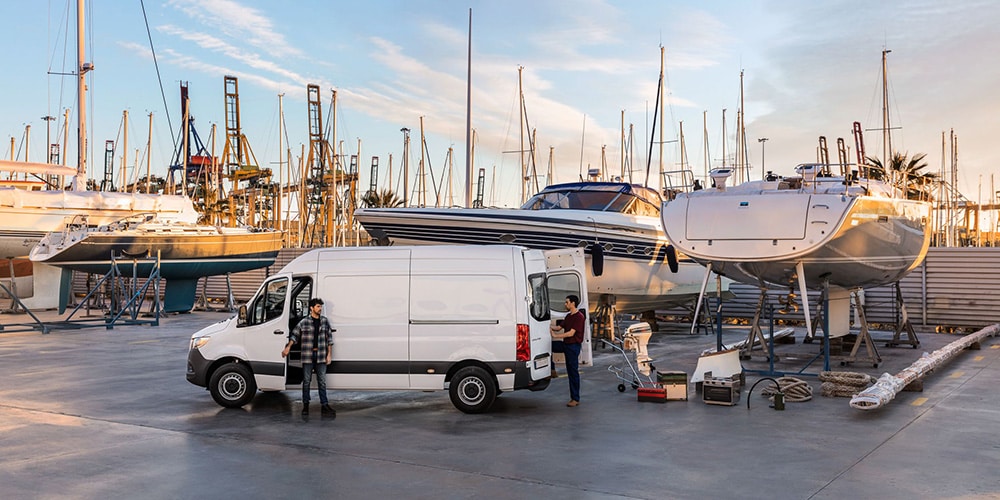 San Jose Sprinter Cargo And Passenger

 

Vans  
Looking for the right Sprinter Van for the job in San Jose? We carry work vans in a wide spectrum of variants and passenger, crew, and cargo body styles. Our vans are as diverse as our customers who seek the right commercial vehicle to haul gear, transport passengers and crew, and deliver products. Whatever your reason for needing a work van, we cater to you. In addition to offering minivans, mid-sized, high-roof, large, and extended cargo vans, we also carry Sprinter vans with customizable cabins. Aside from this, you get vans that are durable but have class--and deliver return on investment.   
Sprinter And Metris Vans
At any given time, you may find lease specials on work vans like the popular Sprinter 4x4 and the Metris Cargo or Passenger Van--the latter of which has all the roominess of a large van--but is the right size to fit in low parking structures--and is capable of maneuvering with finesse. If you are looking for a Sprinter Cargo Van, it is a hardy work vehicle with an impressive payload and towing capacity. This is backed by a powerful engine, and may include today's most advanced safety and driving aids, like the in-demand Crosswind Assist, designed to keep your van and precious cargo stabilized in bad weather. Looking for a Sprinter Passenger Van? The Sprinter Van for sale in San Jose may include seating for up to 12 passengers and other convenience features to keep your passengers comfortable and content. 
Sprinter Van Offers In San Jose
These Sprinter models are available only at participating authorized dealers like Mercedes-Benz of San Jose, and you'll find this reflected at the Inventory pages of our site, where you can filter your search with parameters like Sprinter Passenger Van Price, for instance, and set additional criteria, specifying things like body style and trim level, depending on what you need. Then simply price and compare until you find the right van for the job. To find out more about our lineup of luxury Sprinter and Metris Vans, call the number below to speak with a Sprinter Van Sales Representative, or click on the button to see today's Sprinter vans for sale in San Jose.